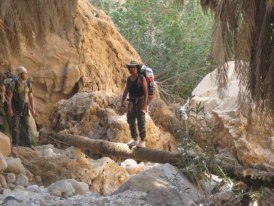 [tabs slidertype="top tabs"] [tabcontainer] [tabtext]Short itinerary [/tabtext] [tabtext]Price [/tabtext] [tabtext]Full itinerary [/tabtext] [tabtext]Terms[/tabtext] [tabtext]Book Now [/tabtext] [/tabcontainer] [tabcontent] [tab]
Tour High Lights of Aqaba Mujeb Dead Sea Tour

| | |
| --- | --- |
| Trip duration | one day |
| Trip type | Private Tour from Aqaba ,Mujeb , to the Dead Sea |
| Trip runs | Every Day |
| Starting from | Aqaba |
| Return to | Aqaba   |
| Pick up time | 07:30 am |
Aqaba to Wadi El Mujeb and the Dead Sea, Early morning, drive threw Wadi Araba, pass by Lot's Cave, stop for a photo of Lot's Wife Salt Pillar. Next stop will be on a tour on foot threw the lower part of Wadi Al Mujeb at the Grande Canyon of Jordan, 200 m wide sandstone gorge, enjoy walking in the water and swimming, and the majestic water falls and pools. Next, drive to the Beach of the Dead Sea, have lunch, free time to swim and have a Mud Bath, then after watching sunset drive back to Aqaba.[/tab] [tab]
price quoted on us dollars per person 
 

| Number of pax | Price unit |
| --- | --- |
| 1 | 250 |
| 2 | 140 |
| 3 | 110 |
| 4 | 100 |
| 5 | 90 |
| 6 | 85 |
| 7 | 80 |
| | |
This includes:
air-conditioned car with English speaking driver
ticket of mujeeb ,dead sea
lunch in dead sea beach
not included 
drinks
guide
self expenses
any item not mention above
[/tab] [tab]Aqaba to Wadi El Mujeb and the Dead Sea, Early morning, drive threw Wadi Araba, pass by Lot's Cave, stop for a photo of Lot's Wife Salt Pillar. Next stop will be on a tour on foot threw the lower part of Wadi Al Mujeb at the Grande Canyon of Jordan, 200 m wide sandstone gorge, enjoy walking in the water and swimming, and the majestic water falls and pools. Next, drive to the Beach of the Dead Sea, have lunch, free time to swim and have a Mud Bath, then after watching sunset drive back to Aqaba.[/tab] [tab]
General info
Prices

Prices are quoted in US Dollars per person per trip and valid till September 2014, except during Christmas, New Year & Easter holidays. Single room occupancy is applied for those coming with other and prefer single occupancy. So there will be a different rate for solo traveler.
Payment Policy

Reservations should be made as early as possible to book the desired jordan tour, spaces will be secured upon receive a deposit of 25 %, and during the Christmas and New Year holidays and tour packages the required deposit is 50%. This deposit forms part of your final payment. Deposits can only be made by credit cards, wire transfer and or Western Union
Jordan  Entry Visa

You need to have a valid passport at least 6 months beyond your scheduled return date to enter Jordan and you can obtain a visa from the Jordanian Consulate before departure. Also, entry visa is available upon arrival jordanian airports against USD 30 per passport for specific nationalities and need to check before.
Tipping

It is a customary attitude for expressing ones satisfaction of good services rendered to him by staff on duty with him. We advise if you are willing to offer it, this would be great and if not, you are not obliged to do it
[/tab] [tab]Please select a valid form[/tab] [/tab] [/tabcontent] [/tabs]
Wander Trace Tours design a private, independent customized tours of Jordan, holy land and Petra  which are tailor-made exactly to your Jordan trip specifications. Our tours can originate from Egypt, Israel, Aqaba or Amman, to allow you to discover Jordan's amazing sites, including Petra, wadi rum, dead sea ,and much more
Aqaba Mujeb Dead Sea Tour  Experience the spectacular sights and climbing of canons and swimming in the Dead Sea, the lowest point on Earth.