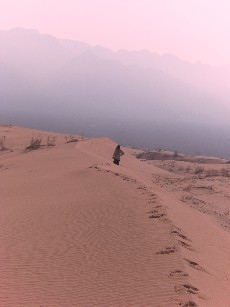 [tabs slidertype="top tabs"] [tabcontainer] [tabtext]Short itinerary [/tabtext] [tabtext]Price [/tabtext] [tabtext]Full itinerary [/tabtext] [tabtext]Terms [/tabtext] [tabtext]Book now [/tabtext] [/tabcontainer] [tabcontent] [tab]
Tour Overview

| | |
| --- | --- |
| Trip duration | 1 day |
| Trip type | Private tour around Little Petra and Wadi Araba |
| Trip runs | All year |
| Starting from | Petra |
| Return to | Petra |
| Pick up time | Any time |
Tour from Petra to Wadi Araba
A full-day jeep tour of the Wadi Araba desert and Little Petra starting and ending in Petra. First stop is a picturesque ancient caravan station in Little Petra, then you will travel a scenic route down into the desert valley of Wadi Araba with its rugged mountain terrain, panoramic views and oases. You will view the sunset over the desert before being dropped back at your hotel in Petra. [/tab] [tab]
Prices quoted in US dollars per person

 

| No. of people | Price unit |
| --- | --- |
| 2 | 115 |
| 3 | 85 |
| 4 | 70 |
| | |
Prices include:
Bedouin lunch in the desert and soft drink
Transfer by 4×4 wheel drive
Visit to Little Petra
visit the sand dunes of wadi Araba
Not included:
Travel insurance
Additional excursions
Tips
Any items not mentioned above
[/tab] [tab]
Tour from Petra to Wadi Araba
Take the opportunity to explore the the 150 km-long desert valley of Wadi Araba between Jordan and Israel from your base at Petra.
Our driver will pick you up from your hotel in Petra in the morning. You will then drive to wonderfully picturesque Little Petra and stop at one of the old caravan stations where you will have time to explore the site. You will continue along beautiful back roads down to Wadi Araba and along the desert valley with its rugged mountain terrain and panoramic views over Israel. There are sand dunes up to 30m high, palm trees, various oases and plenty of camels to be seen. The road itself is worth the trip! You will watch the sunset over the desert on top of a sand dune before being dropped back at your hotel in Petra.
[/tab] [tab]
General information
Trip notes
This is a full-day private tour from Petra to Wadi Araba.
We use a 4×4 jeep with a Bedouin driver.
Prices
Prices are quoted in US dollars per person and are valid until December 2014.
Payment Policy
Reservations should be made as far in advance as possible so we can make the appropriate arrangements.
The booking will be secured upon receiving a deposit of 25%, or, during the Christmas and New Year holidays, a deposit of 50%. This deposit is part of your final payment. Deposits can only be made by wire transfer or through Western Union.
Jordan  Entry Visas
To enter Jordan, your passport must be valid for at least 6 months beyond your scheduled departure date. Visas can be obtained in advance from the Jordanian Consulate in your country of origin, or upon arrival at a Jordanian airport for USD 30. Please check for any special conditions attaching to your nationality beforehand.
Tipping
It is customary in Jordan to express satisfaction and gratitude for good service by giving a tip. A tip is much appreciated by guides, drivers, cleaning staff, etc., but tipping is not obligatory and the amount is up to the tipper's discretion.
[/tab] [tab]Please select a valid form[/tab] [/tabcontent] [/tabs]
Tour from Petra to Wadi Araba:  explore the vast desert terrain including beautiful sand dunes, springs, oasis's, Bedouin life style, Little Petra .