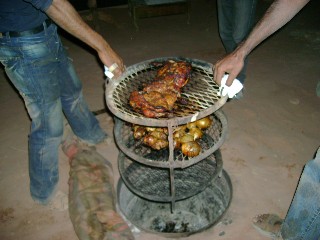 [tabs slidertype="top tabs"] [tabcontainer] [tabtext]Short itinerary [/tabtext] [tabtext]Price [/tabtext] [tabtext]Full itinerary [/tabtext] [tabtext]Terms [/tabtext] [tabtext]Book now [/tabtext] [/tabcontainer] [tabcontent] [tab]
Tour Overview
| | |
| --- | --- |
| Trip duration | one evening |
| Trip type | Private tour: dining with Bedouin |
| Trip runs | All year |
| Starting from | Petra |
| Return to | Petra |
| Pick up time | Any time |
A unique opportunity to learn how to cook traditional Bedouin cuisine in the desert of Jordan. Local Bedouin women will teach you to make dishes such as maglubah ('upside down'), kabseh, mansaf, sayadeh, and fateh, which you will eat together.
[/tab] [tab]
price is 30$ dollars per person 
Prices include:
Pick-up and return to your hotel
Cooking and dining with Bedouin
Food for the night
Not included:
Any items not mentioned above
[/tab] [tab]
Dining with Bedouin in Petra 
You will be picked up from your hotel and taken to visit a Bedouin family, where the women will teach you how to cook a variety of traditional Bedouin dishes. You will share the meal you make, then be returned to your hotel.[/tab] [tab]
Prices
Prices are quoted in US dollars per person and are valid until September 2014.
Tipping
It is customary in Jordan to express satisfaction and gratitude for good service by giving a tip. A tip is much appreciated by guides, drivers, cleaning staff, etc., but tipping is not obligatory and the amount is up to the tipper's discretion.
[/tab] [tab]Please select a valid form[/tab] [/tabcontent] [/tabs]
Dining with Bedouin in Petra: Learn how to cook traditional Bedouin food from local Bedouin women and enjoy eating the dishes you make.