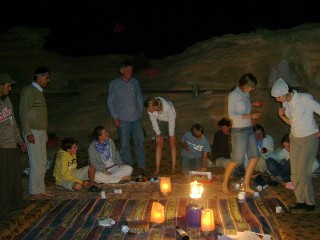 camping in wadi Rum
We are Bedouin guides from Wadi Rum in Jordan and offer our guiding and accommodation services in wadi rum. We have been living in the desert of wadi rum for several generations and have decades of experience looking after tourists. Because of our great love we have for our homeland, it a pleasure for us to share with you the very best of Bedouin life in our camp  in the desert of wadi rum. Wadi Rum is the world's foremost desert climbing and hiking areas. We have many tours and excursions including trekking, climbing, jeep tour or camel safari etc. Our team of Bedouin guides are experienced, energetic and passionate.
The camp and rest area is built in the Bedouin Arabic tradition blending naturally into its desert surroundings. Together with its large modern kitchen our desert camp has traditional Bedouin tented areas, modern showers and toilets: terraced areas with "zerb oven", bar facilities and of course plenty of room for camping, whether in the tents already on site or for motor caravans.
You will eat traditional Bedouin food and listen to our folk tales and music. Then sleep in a Bedouin tent or outside under an amazing sky decorated with a million stars and listen to the impressive silence of the desert.
camping in wadi Rum provide many opportunities for an unforgettable holiday. You will enjoy a relaxed and timeless world and the Bedouin way of hospitality
price 45 $ per night on H-B
For Booking Contact Us
Please select a valid form