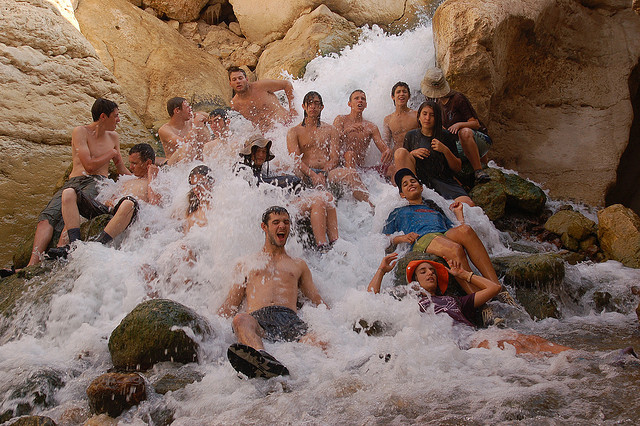 Tour to Wadi Hasa
itinerary
Day one
One Meet and assist on the South Border Aqaba, then transfer to top of Wadi Hasa where you will start the walk through the top of the wadi, You this feeling takes you to a legendary world full of hanging gardens sprouting everywhere. As long as you walk, you will find that the walls of the canyon are getting closer and closer. You will spend the night near the wadi
Day Two  :
Early in the morning, we will start canoeing in Wadi Hasa which is sports magnificent hanging gardens, narrow gorges and hot springs. Its upper reaches are carved into white limestone, creating a playground of giant boulders. A dramatic change of scenery is displayed along its lower course, where the Wadi cuts a spectacular canyon in red sand stone. The drainage basin of Wadi Hasa extended over 3,200 sq. km, far bigger than most of the Wadis in Moab or Edom and second only to Wadi Mujip. Its discharge is about 20 million cubic m per hottest spring is about 54 C Arare tropical tree (Dalbergia sisoo) not known elsewhere in Jordan grows in its bed. There three trails, we will take Wadi Hasa, lower canyon, the route is one way. 550 m descent (950 m descent including the walk along the dirt at the end of the day we will camp in the wadi
Day Three
Continue trekking through the canyon then take the bus at the bottom of the wadi where we will meet the bus again and then transfer to the border
price is quoted in US Dollars per person
 

| price unit | 350 us dollars |
| --- | --- |
Include
Meet and assist
visa to jordan
permit for the hike
All transfer by modren vichel
 English guide
assist in departure
Not included
Travel insurance
Tickets of wadi hesa (7 us per person )
Camping equipment's (sleeping pages mats etc )
Tips
Drinks
food
Departure Jordanian tax
Any items not mention above
Trip note
The tour would be a collective tour not private
Wadi Hasa Tour Date every week end Meeting up time will be between 7Am-8Am maximum at the south border.
Upon finishing the tour, everyone should be on time meeting back up at the border.
In the Wadi you are free to move about as you wish, but please note, that at the end of the tour you need to be on time for the meet up.
. Please bear in mind good camera etc, walking shoes and sandals and your camping equipment, wet suits (for water slides, hot springs).
Payment should be settled upon the arrival at the border, to be paid in cash only, (no credit cards please).
Wander Trace Tours has the right to cancel the trip if there are not enough bookings.
 Booking is made by direct bookings to Wander Trace Tours at Info@wandertracetours.com (mobile 962 079690-4646, of all required information.
 We highly recommend that people who wish to book the tour have no prior injury that will hinder them from walking great distances.
 First Aid Kit is recommended.
 This is a fixed destination, and upon booking the tour we cannot change the program once the tour starts.
 No refund for ungodly circumstances.
 Upon booking this tour means that the traveler has agreed to the follow terms stated above.
 For a private tour please contact us at the above information given.
 Any traveler that wants to extend their stay can contact us before the tour starts.
To book this tour we require the following information ten day before arrival
Full Name.

Passport Number.

Date of issue.

Date of expire.

Date of Birth.

Nationally.
Please select a valid form