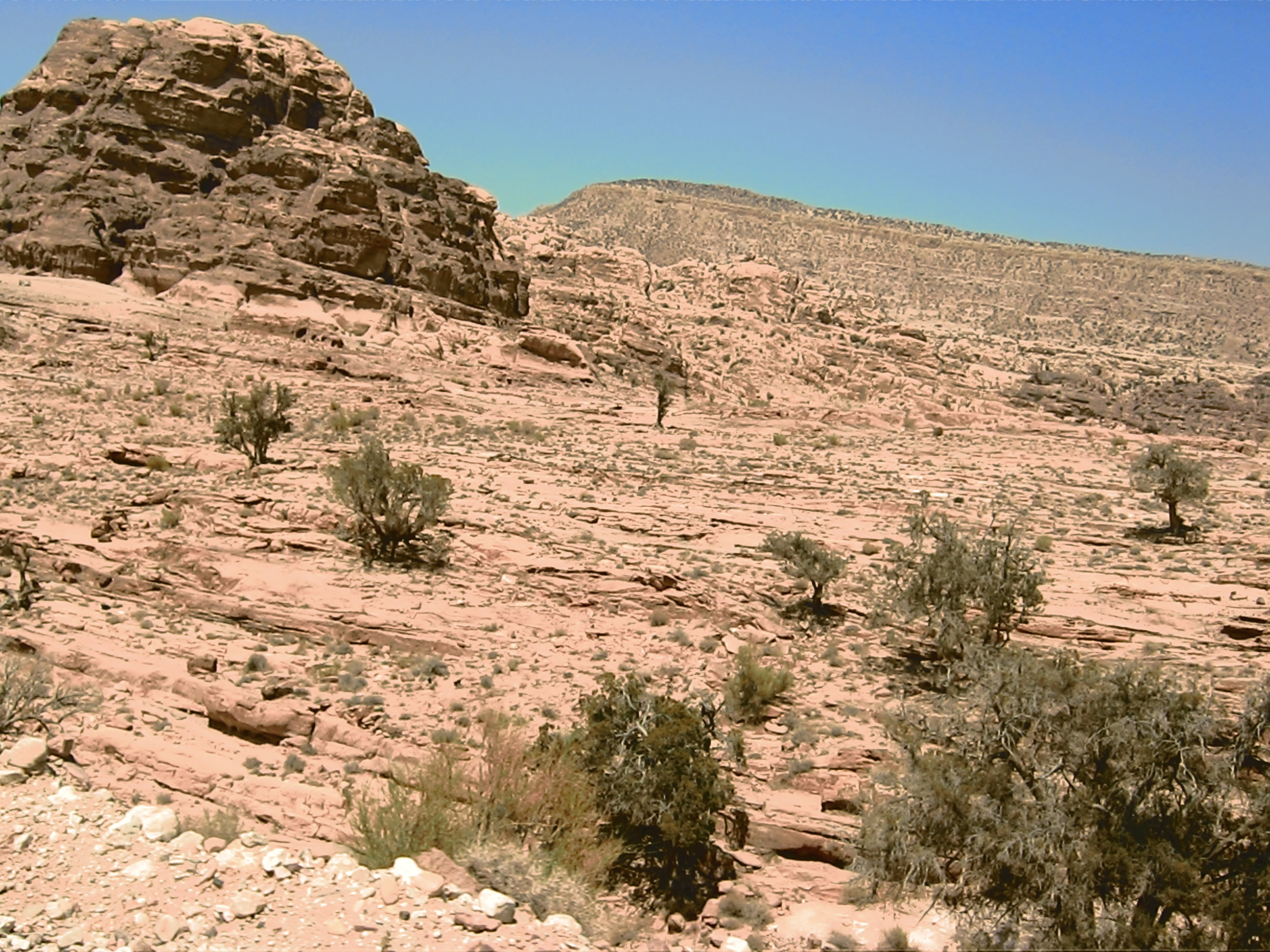 [tabs slidertype="top tabs"] [tabcontainer] [tabtext]Short itinerary [/tabtext] [tabtext]Price[/tabtext] [tabtext]Full itinerary [/tabtext] [tabtext]Terms[/tabtext] [tabtext]Book now [/tabtext] [/tabcontainer] [tabcontent] [tab]
Jordan Kings Way Tour Overview
| | |
| --- | --- |
| Trip duration | 11 days, 10 nights |
| Trip type | Private tour: classic sight seeing, culture |
| Trip runs | All year |
| Starting from | Amman airport |
| Return to | Amman airport |
| Pick up time | Any time |
Short Itinerary
 

| DAY | SCHEDULE | SLEEPING IN | MEALS |
| --- | --- | --- | --- |
| 1 | Queen Alia Airport – Amman | Amman | —— |
| 2 | Amman – Jerash – Ajloun – Um Qais – Amman | Amman | break fast |
| 3 | Amman – baptism – Dead Sea | dead sea | break fast & dinner |
| 4 |  Wadi Mujib – Hammat Ma'in – dead sea | dead sea | break fast & dinner |
| 5 | King's Highway – Kerak – Dana – Petra | Petra | breakfast |
| 6 | Petra | Petra | breakfast |
| 7 |  Petra – Little Petra-wadi rum | wadi rum | breakfast &dinner |
| 8 |  Wadi Rum – Aqaba | Aqaba | breakfast |
| 9 | Aqaba | Aqaba | breakfast |
| 10 | Aqaba – Amman | Amman | breakfast |
| 11 | Departure | ——- | breakfast |
| | | | |
[/tab] [tab]
Prices are quoted in US dollars per person. 
 

| No. of people | 3* Hotel | 4* Hotel | 5* Hotel |
| --- | --- | --- | --- |
| 2 | 1460 | 1630 | 2090 |
| 3 |  1240 | 1410 | 1875 |
| 4 | 1220 | 1395 |  1855 |
| 5 | 1140 | 1310 | 1770 |
| 6+ | 1085 | 1255 | 1715 |
| Single supplement | 330 | 395 | 675 |
Prices include:
Meeting and assistance with visas at the airport
All transfers by air-conditioned bus with English-speaking driver
Bed and breakfast hotels (sharing a double room)
hotels in the dead sea and wadi rum on half board basis
Entrance tickets to sites mentioned in the itinerary
2-hour jeep tour in Wadi Rum
English guide in Petra for 3 hours and Jerash for 1.5 hours
Short horse ride in Petra
Jordanian taxes
Not included:
Travel insurance
visa fees to jordan
Meals other than those mentioned in the itinerary
Additional excursions
Tips
Personal expenses
Any items not mentioned above
[/tab] [tab]
Day 1: Alia International Airport – Amman
Welcome to the Heshamite Kingdom Of Jordan. You will arrive at Alia airport and be met and assisted through customs and immigration by a member of our team. Transfer by bus to Amman (the capital of Jordan) for an overnight stay.
Day 2: Amman – Jerash – Ajloun – Um Qais – Amman
After breakfast, we drive north to visit Jerash, one of the Roman Decapolis cities. It is one of the world's largest and most well-preserved sites of Roman architecture outside of Italy. You'll have time to stroll around the many colonnaded streets, plazas, baths, theaters, and arches of the city known as the "Pompeii of the East." We will then leave to Ajloun. Here we will see the 12th century Saracen Castle built by one of Saladin's lieutenants and used in the military campaign against the crusaders. This superb example of Arab and Islamic architecture was built as a rectangle with four square towers and an entrance on the south side dominating a wide stretch of the north Jordan Valley and passages to it. From its hilltop position, the Castle of Ajloun protected the communication routes between south Jordan and Syria, and was once one of a chain of forts which lit beacons at night to pass isgnals from the Euphrates as far as Cairo. Next, we head on to Umm Qais, situated 110km north of Amman and once known as Gadara. Umm Qais was once one of the most brilliant ancient Hellenistic-Roman cities of the Dacapolis and, according to the Bible, the spot where Jesus cast out devils from two demoniacs (mad men) into a herd of pigs. Umm Qais is on a broad promontory 378 meters above sea level that enjoys a magnificent view over the Golan Heights, Lake Tiberius (Sea of Galilee), and Jebel al Sheikh in both Lebanon and Syria. In the evening, we are back to Amman for a soiree of food and Arabic Music in Can Zaman Restaurant.
Day 3: Amman – Magtuas – Dead Sea 
After breakfast, we drive to Magtas (Bethany) and visit one of the most recent significant archaeological and religious discoveries, the site where John the Baptist baptized Jesus. Next we will move on to the Dead Sea for a relaxing swim and perhaps a recuperative mud treatment. At 423 meters below sea level, it is the lowest point on Earth. Visitors to the Dead Sea have an unforgettable experience as the high density of the water makes sinking virtually impossible. We will then move on to visit Mt. Nebo, the place where Moses, having led his people from Sinai, first looked over the Holy Land. The West Bank city of Jericho is usually visible from the summit, as is Jerusalem on a very clear day. Late in the afternoon, we leave to Amman for overnight stay.
Day 4: Amman- Madaba – Wadi Mujib – Hammat Ma'in -dead sea 
We arrive at Madaba in the morning, a Christian town which has many superb mosaics. We will view the most famous mosaic which is housed at the contemporary Greek Orthodox Church of St. George and depicts the Holy Land. This is a wonderfully vivid 6th century mosaic map, comprised of two million pieces of colored stone showing the entire region from Jordan to Palestine in the north and Egypt in the south. Before noon we drive to Wadi Mujib Wild reserve, the Grand Canyon of Jordan. Your tour will along the river take you through deep canyons and pools where you can swim and enjoy the spectacular scenery and wildlife. Next, we continue to the hot springs of Hammamat Ma'in to bathe in hot mineral water. In the evening we are back to Madaba for an overnight stay
Day 5: Madaba – Kerak – Dana – Petra
After breakfast, we drive to visit the Crusader castle in Karak. Kerak Castle soars above its valleys and hills like a great ship riding waves of rocks. It is a typical crusader fortress with dimly lit stone-vaulted rooms and corridors leading into eachother through heavy arches and doorways. Next we head on to Dana Wild reserve to enjoy yhe natural beauty of the wooded highlands, rocky slopes and sand dunes, as well as the diverse array of wildlife that it supports, including many rare species of plants and animals. Then we continue our track to Showbak to visit Montreal Crusader castle. Built by King Baldwin I circa 1115 to guard the road from Damascus to Egypt, it commands an imposing position, crowning a cone of rock which rises above a wild and rigged landscape dotted with a grand sweep of fruit trees. Finally we will head to Petra for an overnight stay.
Day 6: Petra
After breakfast, we walk to the visitor center to buy our tickets, ride a horse up to the Siq entrance, get down to walk all along the Siq (Simi-tunnel) between two cliffs around 100 meters high in some instances. Toward the end of the Siq comes into view the breathtaking facade known as the "Treasury," locally called " Khaznah." We continue to the Theater, the Court, the High place, and continue to the Monastery, then back to our hotel for overnight stay.
Day 7: Petra –Wadi Rum 
We will have a full day visit to Petra, for one day is not enough to see the beautiful Rose Red city. Late in the day we will visit Little Petra, the first settlement of the Nebataeans. After enjoying these magnificent wonders we will return back and head to wadi rum for over night .
Day 8:  Wadi Rum – Aqaba
After breakfast we leave to Aqaba  after 4 hours jeep tour  have a free time and overnight in the port city of Jordan.
Day 9: Aqaba
Today would be a free day to shop in the bazaars or enjoy a dive in the Red Sea. This day is meant for our guests to relax and enjoy the many colors and views of Jordan. Jordan has a bit of everything. Take a ride on a glass bottom boat, taste the excellent coffee in Aqaba cafe shops, or relax on a beach resort and have a massage. This day is yours to do anything you want.
Day 10: Aqaba – Amman
Today is a day for our to get those last little gifts for your loved ones back home before heading back to Amman in the afternoon. We'll take you to the Hotel for your last night in Jordan.
Day 11: Amman – Queen Alia Airport
Early in the morning (depending upon your fight) we will drive from Amman to the airport for you to catch your fight. We wish you safe travels and hope you enjoyed your stay in Jordan.
[/tab] [tab]
Trip notes
Prices are quoted in US Dollars per person
if you choose to stay in three stars hotel you will be staying in madaba in stead of the dead sea
in wadi rum we will be using old bedouin jeep cars from the local communities
 You walk several km in Petra and jerash  and the terrain is uneven. Please bear in mind good walking shoes and a backpack for beverage, camera etc.
visa fees to jordan  is not included in the package
Prices for Children
Children under 2 are free of charge  sharing adults bed .
Children aged from 2 to 5 pay 25% of the adult price sharing adults bed .
Children aged from 6 to 11 pay 50% of the adult price  sharing adults bed .
Children 12 and over pay the full adult price.
Payment Policy
Reservations should be made as far in advance as possible so we can make the appropriate arrangements.
The booking will be secured upon receiving a deposit of 25%, or, during the Christmas and New Year holidays, a deposit of 50%. This deposit is part of your final payment. Deposits can only be made by wire transfer or through Western Union.
Jordan  Entry Visas
To enter Jordan, your passport must be valid for at least 6 months beyond your scheduled departure date. Visas can be obtained in advance from the Jordanian Consulate in your country of origin, or upon arrival at a Jordanian airport for USD 60. Please check for any special conditions attaching to your nationality beforehand.
Tipping
It is customary in Jordan to express satisfaction and gratitude for good service by giving a tip. A tip is much appreciated by guides, drivers, cleaning staff, etc., but tipping is not obligatory and the amount given is up to the tipper's discretion.
[/tab] [tab]Please select a valid form[/tab] [/tabcontent] [/tabs]
Follow the King's Highway and explore the most beautiful sites in Jordan, including Petra, Wadi Rum, the Dead Sea, Amman and more.