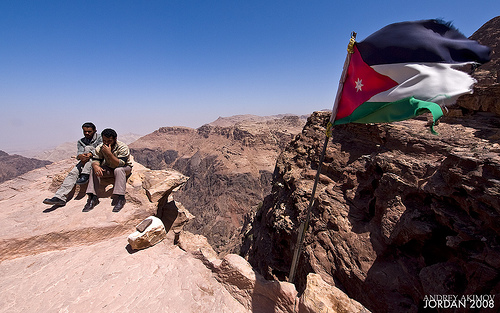 [tabs slidertype="top tabs"] [tabcontainer] [tabtext]Short itinerary [/tabtext] [tabtext]Price [/tabtext] [tabtext]Full itinerary [/tabtext] [tabtext]Terms[/tabtext] [tabtext]Book now [/tabtext] [/tabcontainer] [tabcontent] [tab]
Jewels of Jordan Tour High Lights
| | |
| --- | --- |
| Trip duration | 9 Days ,8 Nights |
| Trip type | Private Tour :classic tour sight seeing |
| Trip runs | All Year |
| Starting from | Amman Air Port |
| Return to | Amman Air Port |
| Pick up time | Any Time |
Short Itinerary
 

| DAY | SCHEDULE | SLEEPING IN | MEALS |
| --- | --- | --- | --- |
| 1 | Queen Alia Airport – Amman | Amman | ——– |
| 2 |  Jerash – Ajloun – Umm Qais |  Amman | breakfast |
| 3 | Dead Sea – Mt. Nebo – Madaba – Karak – Dana | Dana | breakfast,lunch,dinner |
| 4 | Dana- Shobak Castle-Petra | Petra | breakfast |
| 5 | Petra | Petra | breakfast |
| 6 | Little Petra – Wadi Rum | Wadi Rum | breakfast &dinner |
| 7 | Wadi Rum – Aqaba | Aqaba | breakfast |
| 8 |  Aqaba – Amman | Amman | breakfast |
| 9 | Departure | Departure | breakfast |
| | | | |
 [/tab] [tab]
 

| Number of pax | 3* Hotel | 4* Hotel | 5* Hotel |
| --- | --- | --- | --- |
| 2 | 1070 | 1220 | 1520 |
| 3 | 880 | 1030 | 1335 |
| 4 |  860 | 1010 | 1315 |
| 5 | 790 | 940 | 1245 |
| 6+ |  740 |  890 | 1195 |
| single supplement |  160 | 165 | 295 |
Include
Meet and assist
All transfer by Air Condition Bus with English speaking Driver
Hotel on  Bed and Breakfast  Sharing duple Room)
dana hotel and wadi rum camp site on half board basis
Entrance Tickets to the Mention Sites
Wadi Rum Jeep Tour For 4 Hours
English Guide in Petra for (3 hours) and Jerash ( 1 :30)dana (2 hours )
Lunch in the Dead Sea
Short Horse Ride in Petra
Tax Service in Jordan
Not included
Air Fare Ticket
visa fees to jordan
Travel Insurance
Lunches & Dinners not mention in the itinerary
Extra Excursion
Tips
Self Expenses
Any items not mention above
[/tab] [tab]
Jewels of Jordan Tour
Duration: 9 days, 8 nights
Activities: sight seeing, camping, swimming, and Jeep tour
Destination: Amman, Jerash, Petra, Karak, Little Petra, Shoubak, Wadi Rum, Aqaba
Physical rating: easy
Tour Itinerary
Day 1 Queen Alia International Airport – Amman Welcome to Jordan! You will be met on arrival at the airport and transferred to your hotel in Amman for dinner.
Day 2: Amman – Jerash – Ajloun (Ar Rabad Castle) – Umm Qais (Gadara) – Amman
We will be sightseeing north of Amman taking in Ajloun Castle, Umm Qais (Gadara), and the Hellenistic-Roman City of Jerash before returning to our hotel in Amman for dinner and an overnight stay. Jerash is located 48 kilometers from Amman and has been dubbed the "Pompeii of the East" due to it being one of the world's largest and most well-preserved sites of Roman architecture outside of Italy. The colonnaded streets, baths, theatres, plazas, and arches remain in exceptional condition and make the city an extremely interesting place to look around. Next, we will visit Ajloun to see the 12th Century Saracen Castle built by one of Saladin's lieutenants and used in the military campaign against the Crusaders. This superb example of Arab and Islamic architecture was built as a rectangle with four square towers and an entrance on the south side dominating a wide stretch of the north Jordan Valley and passages to it. From its hilltop position, the Castle of Ajloun protected the communication routes between south Jordan and Syria, and was one of a chain of forts which lit beacons at night to pass signals from the Euphrates as far as Cairo. Then we head on to Umm Qais, situated 110km north of Amman and once known as Gadara (meaning fortification). Umm Qais was once one of the most brilliant ancient Hellenistic-Roman cities of the Decapolis and, according to the Bible, the spot where Jesus cast out devils from two demoniacs (mad men) into a herd of pigs. Umm Qais is on a broad promontory 378 meters above sea level that enjoys a magnificent view over the Golan Heights, Lake Tiberius (Sea of Galilee), and Jebel al Sheikh in both Lebanon and Syria. We will stay overnight at a hotel in Amman.
Day 3 Amman – Dead Sea – Mt. Nebo – Madaba – Karak – Dana
After breakfast, we will drive to the Dead Sea where we will spend a few hours floating in the healing mineral waters and take a recuperative mud treatment. Visitors to the Dead Sea have an unforgettable experience as the high density of the water makes sinking virtually impossible. Next, we will head to Mt. Nebo. It was here, on the edge of a ridge overlooking the Dead Sea, that Moses first caught a glimpse of the Holy Land, having led his people from Sinai. It is said that Moses also died and was buried here. The West Bank city of Jericho is usually visible from the summit of Mt. Nebo, as is Jerusalem on a clear day. Our next stop is Madaba, a Christian town with many superb churches and mosaics. We will view the most famous mosaic housed at the contemporary Greek Orthodox Church of St. George. It is a 6th century map comprised of two million pieces of colored stone depicting the entire region from Jordan to Palestine in the north and Egypt in the south. From Madaba we will drive to the Crusader castle at Kerak. Karak Castle soars above its valleys and hills like a great ship riding waves of rocks. It is a typical crusader fortress, with dimly lit stone-vaulted rooms and corridors leading into each other through heavy arches and doorways. The ruins of the upper level are attributed to the Crusader period, and the staircases leading to the underground level of the upper courtyard provide access to Mamluk architecture complexes, most of which were probably associated with a palace. Next, we move on to Dana wild reserve and stay overnight.
Day 4 We'll start with a walk in Dana nature reserve, enjoying the natural beauty of the wooded highlands, rocky slopes, gravel plains and sand dunes, as well as the diverse wildlife that it supports including many rare species of plants and animals. Next, we'll drive to Shobak Castle, situated mid-way between Karak and Petra, 190km south of Amman. It was built by King Baldwin I circa 1115 to guard the road from Damascus to Egypt and commands an imposing position, crowning a cone of rock which rises above a wild and rugged landscape dotted with a grand sweep of fruit trees. The castle's exterior is impressive, with a forbidding gate and encircling walls three layers thick. The walls and projecting towers are reasonably intact but inside the castle mainly consists of tumbled stones with a few walls and arches. We will arrive in Petra in time for our dinner and overnight at a hotel in Petra.
Day 5 Petra Petra is a treasure of the ancient world and definitely a highlight of any trip to Jordan. It is hidden behind an almost impenetrable barrier of rugged mountains and boasts incomparable scenes making it perhaps the most majestic and imposing ancient site still standing today. It is the legacy of the Nabataeans, an industrious Arab people who settled in southern Jordan more than 2,000 years ago and who carved their new capital out of the rose-red Sharah Mountains. The site contains refined culture, massive architecture and an ingenious complex of dams and water channels. For our first hours in Petra we will have an English speaking guide who will show us around the numerous highlights including the Treasury (El Khazneh) which has an intricately carved façade that glows in the sun, the amphitheatre, and the Royal Tombs. For the remainder of the day you will be able to wander at your leisure; one monument leading to the next for kilometer after kilometer. The sheer size of the city and quality of the beautifully carved facades at Petra is staggering, almost overwhelming and there are over 800 individual monuments in total, including buildings, tombs, baths, funerary halls, temples, gateways, and colonnaded streets to admire, mostly carved from the kaleidoscopic sandstone by the technical and artistic genius of its inhabitants. At the end of the day you will walk back past the bazaars where you can buy a souvenir or gift to accompany your treasured memories. We will drive to a hotel in Petra for our dinner and an overnight stay.
Day 6 Petra – Little Petra – Wadi Rum In the morning we will drive to Siq Al Barid (Little Petra), a suburb of the main ancient city. Little Petra provides a summary of Nabataean architecture. The area was once a caravanserai stop for the capital and comes complete with its own mini-Siq, a 350 meter fissure in the rock crammed with tombs, triclinums, water channels, and cisterns. It is still easy to imagine the sounds and smells of the old days when traders, caravan masters and drovers lived and traded here. We drive a short distance on to Al Beidha, or 'the white one' on account of the color of its rock. Al Beidha contains the remains of a Neolithic site, dating back to 7,500 BC which makes it one of the earliest known co-operative villages on earth. Next we head on to Wadi Rum, staying overnight in a deluxe campsite with clean comfortable beds and hot showers.
Day 7 Wadi Rum – Aqaba After a sustaining buffet breakfast we enjoy a Jeep Safari amongst Wadi Rum's enchanting pink and white desert sands. Travel in Wadi Rum is a journey to another world, where one can escape the worries of everyday life and return to nature. In this immense space, man is dwarfed into insignificance. Vast, silent and timeless, Wadi Rum possesses one of the most beautiful desert landscapes in the world. Rock carvings mark the passage of ancient tribes in pre-history. Thamud inscriptions, burial mounds, ancient megaliths and ruined buildings abound and Nabataean's rock carved stairways, dams, and temples can still be found throughout the area. Wadi Rum is perhaps best known because of its connection with Lawrence of Arabia and we follow in the enigmatic British officer's footsteps as we drive through the surreal moonscape. We will stay in Wadi Rum until the late afternoon to explore the area in detail and to watch the gorgeous desert sunset. We will then drive to a hotel in Aqaba in time for dinner and overnight in Aqaba.
Day 8 Aqaba – Amman Aqaba is Jordan's only port city and beach resort. The majority of today is free to do as you please. Perhaps you would like to simply relax on the beach with a drink? Maybe take a boat ride on a glass-bottomed boat? We would recommend that you take advantage of the unbelievably clear water in the area to snorkel or dive to see the myriad coral reefs and colorful fish. Late afternoon we drive north to Amman in time for dinner and overnight in Jordan's capital city.
Day 9 In the morning, depending upon your flight, we will provide transportation to the airport in time for check-in.[/tab] [tab]
General info
trip notes
Prices are quoted in US Dollars per person per trip
if you choose any of the packages you will stay in dana cooperative society hotel (basic hotel )and wadi rum camp site
in wadi rum we will be using old bedouin jeep cars from the local communities
 You walk several km in Petra and jerash wadi rum and the terrain is uneven. Please bear in mind good walking shoes and a backpack for beverage, camera etc.
visa fees to jordan  is not included in the package
Children Policy
0 – 01.99 Free of Charge  sharing adults bed .
2 – 5.99 pay 25% of tour price sharing adults bed .
6 – 11.99 pay 50% of tour price sharing adults bed .
12+ pay full tour price as per adult person
 Payment Policy
Reservations should be made as early as possible to book the desired Jordan tour, spaces will be secured upon receive a deposit of 25 %, and during the Christmas and New Year holidays and tour packages the required deposit is 50%. This deposit forms part of your final payment. Deposits can only be made by , wire transfer and or Western Union
Jordan  Entry Visa
You need to have a valid passport at least 6 months beyond your scheduled return date to enter Jordan and you can obtain a visa from the Jordanian Consulate before departure. Also, entry visa is available upon arrival jordanian airports against USD 60 per passport for specific nationalities and need to check before.
Tipping
It is a customary attitude for expressing ones satisfaction of good services rendered to him by staff on duty with him. We advise if you are willing to offer it, this would be great and if not, you are not obliged to do it
[/tab] [tab]Please select a valid form[/tab] [/tabcontent] [/tabs]
Jewels of Jordan Tour – A complete Jordanian experience to learn about our culture: From Roman legacy to Bedouin lifestyle, enjoy the beautiful Jordan!