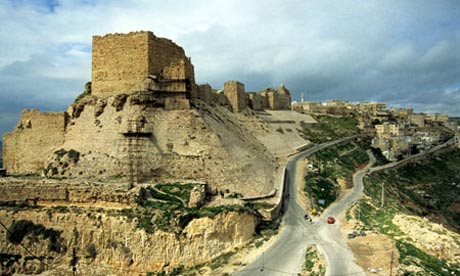 [tabs slidertype="top tabs"] [tabcontainer] [tabtext]Short itinerary [/tabtext] [tabtext]Price[/tabtext] [tabtext]Full itinerary [/tabtext] [tabtext]Terms[/tabtext] [tabtext]Book now [/tabtext] [/tabcontainer] [tabcontent] [tab]
Jordan Express Tour  Overview
| | |
| --- | --- |
| Trip duration | 10 days, 9 nights |
| Trip type | Private tour: classic sight-seeing, culture |
| Trip runs | All year |
| Starting from | Amman airport |
| Return to | Amman airport |
| Pick up time | Any time |
Short Itinerary
 

| DAY | SCHEDULE | SLEEPING IN | MEALS |
| --- | --- | --- | --- |
| 1 | Alia International Airport – Amman | Amman | welcome drink |
| 2 | Jerash – Ajloun – Amman   | Amman | breakfast |
| 3 |  Desert Castles – Amman   | Amman | breakfast |
| 4 | Amman – baptism site -dead sea | dead sea | breakfast &dinner |
| 5 |  madab -nebo- kingsway – Petra  | Petra | breakfast |
| 6 | Full day visit Petra | Petra |  breakfast |
| 7 |  Petra – Wadi Rum  | Wadi Rum | breakfast &dinner |
| 8 | Wadi Rum – Aqaba | Aqaba | breakfast |
| 9 | Aqaba free day | Aqaba | breakfast |
| 10 | Aqaba – Amman air port  | departure  | breakfast |
| | | | |
[/tab] [tab]
Prices are quoted in US dollars per person.
 

| No. of people | 3* Hotel | 4* Hotel | 5* Hotel |
| --- | --- | --- | --- |
| 2 | 1240 | 1385 | 1830 |
| 3 | 1040 | 1180 | 1625 |
| 4 | 1010 | 1155 | 1595 |
| 5 | 930 |  1075 | 1520 |
| 6+ | 880 | 1025 | 1470 |
| Single supplement | 215 |  290 | 575 |
Prices include:
Assistance at the airport
All transfers by air-conditioned bus with English-speaking driver
Bed and breakfast hotels (sharing a double room)
dead sea hotels &wadi rum camp site on half board basis
Entrance tickets to the sites mentioned in the itinerary
4-hour jeep tour in Wadi Rum
English-speaking guide in Petra for 3 hours and at Jerash for 1.5 hours
Short horse ride in Petra
Jordanian taxes
Not included:
Airfares
visa fees to jordan
Travel insurance
Lunches and dinners
Additional excursions
Tips
Private expenses
Any items not mentioned above
[/tab] [tab]
Day 1: Alia International Airport – Amman
You will be met at Queen Alia Airport and assisted through customs and immigration by a member of our team. You will then transfer by bus to Amman for the night.
Day 2: Amman – Jerash – Ajloun – Amman
After breakfast, we drive north to visit Jerash, one of the Roman Decapolis cities. It is one of the world's largest and most well-preserved sites of Roman architecture outside of Italy. You'll have time to stroll around the many colonnaded streets, plazas, baths, theaters, and arches of the city known as the "Pompeii of the East". We will then head for Ajloun, where we will see the 12th-century Saracen castle built by one of Saladin's lieutenants and used in the military campaign against the crusaders. We go back to Amman for the night.
Day 3: Amman: Desert Castles, Amman city tour
Today is a tour of the Desert Castles east of Amman. The 'castles', which include pavilions, caravan stations, baths, and hunting lodges, date from the Ummayyad beginnings of Islamic-Arab civilization (661-750 AD). Although isolated today, they were once integrated in a  network of well-watered agricultural and trading complexes and some, like Quasayr Amra, are richly decorated and are considered some of the most spectacular and original monuments of early Islamic art.
After visiting Qasr al-Mushatta, Quasayr Amra and Qasr al-Azraq, we will drive back to Amman to spend the afternoon exploring the heart of the old city. The main site is the Citadel, with its remains of the Umayyad Palace and the Temple of Hercules, as well as the excellent Archaeological Museum. From the Citadel you will have a panoramic view over the old part of the city. Below the Citadel, we will see the 2nd-century Roman Theatre and the traditional souks, then stroll through leafy Jebel Amman with its 19th century houses, in one of which the late King Hussein was born. In the evening, we return to the hotel.
Day 4: Baptism Site & Dead Sea
Drive towards the Jordan Valley to visit the Baptism Site, Bethany Beyond the Jordan. Bethany, located on the east bank of the Jordan River, is recognized as the place, where John preached and baptized Jesus. On Epiphany in January 2000, more than 40,000 people celebrated here a mass, and also the Popes John Paul II and Benedict XVI had been here for worshipping. Beside the baptism site you see remains of Byzantine churches and baptism pools. You will also visit Elijah's Hill, where according to the Bible Elijah ascended to heaven in a chariot. Short drive to Dead Sea Beach where you have the chance to float on salty waters at the lowest point on earth for over night in the dead sea hotel
Day 5: Amman – Madaba – Mount Nebo –kingway -petra 
After breakfast, we transfer to Madaba to visit the famous mosaic map of Jerusalem and the Holy Land in St George's church. The next stop is Mount Nebo, where like Moses you will be able to overlook the Holy Land and the Dead Sea, including, if the sky is clear, Jerusalem, Jericho and Bethlehem. Next, we will head to Kerak Castle, where Saladin and Richard Lionheart fought during the Second Crusade. We will then drive down to petra to stay overnight.
Day 6: Petra
After breakfast, we walk to the Visitors' Center to buy our tickets, then ride a horse up to the Siq entrance. We will walk through the eerie Siq canyon to come upon the breathtaking façade of the Treasury ("al Khaznah). We continue to the Theater, the Royal Tombs, the High Place of Sacrifice and the Monastery, before returning to our hotel.
Day 7: Petra –Wadi Rum
Explore Petra further in the morning, then our driver will take you via the King's Highway  to Wadi Rum. You will arrive in time to enjoy the sunset before going to a  private Bedouin camp for the night. The camp has  all facilities, including mattresses, blankets, pillows, beds in private tents and European-style bathrooms with showers and flush toilets.
Day 8: Wadi Rum – Aqaba
In the morning, a guided jeep tour will take you to visit Lawrence's Spring as well as centuries-old Nabataean inscriptions. You will have the chance to climb one of the natural rock bridges before having lunch at the Wadi Rum guesthouse. We will then drive to Aqaba for the night.
Day 9: Aqaba free day
Discover the bazaars at your own pace, dive in the Red Sea, go out in a glass-bottomed boat, savour the Arabic coffee in the cafés, get a massage at a beach resort or just relax as you please.  This day is yours to do anything you want.
Day 10: Aqaba –Amman airport
We will drive back to Amman  airport in time for you to catch your flight, whenever that may be.
[/tab] [tab]
Prices
Prices are quoted in US dollars per person
trip notes
Prices are quoted in US Dollars per person per trip
if you choose to stay in three stars hotel you will be staying in four stars hotel at the dead sea
in wadi rum we will be using old bedouin jeep cars from the local communities
 You walk several km in Petra and jerash  and the terrain is uneven. Please bear in mind good walking shoes and a backpack for beverage, camera etc.
visa fees to jordan  is not included in the package
Prices for Children
Children under 2 are free of charge.
Children aged from 2 to 5 pay 25% of the adult price.
Children aged from 6 to 11 pay 50% of the adult price.
Children 12 and over pay the full adult price.
Payment Policy
Reservations should be made as far in advance as possible so we can make the appropriate arrangements.
The booking will be secured upon receiving a deposit of 25%, or, during the Christmas and New Year holidays, a deposit of 50%. This deposit is part of your final payment. Deposits can only be made by wire transfer or through Western Union.
Jordan  Entry Visas
To enter Jordan, your passport must be valid for at least 6 months beyond your scheduled departure date. Visas can be obtained in advance from the Jordanian Consulate in your country of origin, or upon arrival at a Jordanian airport for USD 60. Please check for any special conditions attaching to your nationality beforehand.
Tipping
It is customary in Jordan to express satisfaction and gratitude for good service by giving a tip. A tip is much appreciated by guides, drivers, cleaning staff, etc., but tipping is not obligatory and the amount given is up to the tipper's discretion.
[/tab] [tab]Please select a valid form[/tab] [/tabcontent] [/tabs]
Jordan Express Tour – Discover the most beautiful sites in Jordan, including Petra, Wadi Rum, the Dead Sea, Amman and more.